Last Updated on October 29, 2023 by admin
Origins of the Tech Deck Movement
Introduced in the late 1990s by X-Concepts, Tech Decks, more popular as fingerboards, made a splash in the skateboarding world. This tiny version of the skateboard was designed to capture the thrill of actual skateboarding using only a set of nimble fingers. Their popularity surged alongside the rising tide of skateboarding, drawing enthusiasts young and old to this fascinating, scaled-down pastime.
Breaking Down the Tech Deck Anatomy
Every Tech Deck is a masterpiece of craftsmanship and attention to detail, replicating the real skateboarding experience at a fraction of the size:
Deck: The heart of every fingerboard, the deck is a miniature version of the real deal, available in various designs, sizes, and concave shapes.
Grip Tape: Essential for maintaining control, the grip tape ensures your fingers remain firmly on the board during those high-flying maneuvers.
Trucks: These adjustable metal pieces, affixed beneath the deck, make intricate turns and tricks a breeze.
Wheels: Ensuring a seamless glide, the wheels' variation in size, design, and hardness allows for customized riding experiences.
Bearings: Ensuring every roll is smoother than the last, the directions are a small yet pivotal component of the Tech Deck experience.
From Novelty to Noteworthy Hobby
Originally marketed as a fun novelty, Tech Decks soon found their niche. A global community of passionate fingerboarders emerged, showcasing their skills in organized events, competitions, and digital platforms. The culture grew rich and diversified. Today, whether you're a beginner seeking tutorials or a seasoned pro hunting for the latest tricks, the world of fingerboarding has something for you.
The Growing Market and Iconic Brands
With the rise in popularity came an expansion in the market. Leading the charge was, of course, Tech Deck. However, brands like Blackriver Ramps and FlatFace Fingerboards were just a little behind, each bringing their unique flair. From ramps to intricate playsets, these brands ensured fingerboarders had everything they needed to elevate their game.
For those looking to start or expand their collection, many online retailers stand ready, offering everything from individual decks to complete skate park playsets.
Tech Decks: More Than Just a Toy
Over the years, Tech Decks have evolved from mere playthings to symbols of a subculture, intertwining craftsmanship and community. This miniature skateboarding world stands as a testament to the passion and dedication of its members. It's more than just a toy—it's an art form, a skill, and a community.
In the vast universe of skateboarding, Tech Decks hold a particular corner. They serve as a reminder that sometimes, the most profound experiences come in the smallest packages.
Also, Read Choosing the Right CCW Clothing For Concealed Carry.
FAQs
What is a Tech Deck?
A Tech Deck, commonly known as a fingerboard, is a miniature skateboard designed to simulate real skateboarding tricks and maneuvers using fingers. Introduced by X-Concepts in the late 1990s, they have become an iconic representation of the skateboarding world in miniature form.
Are Tech Decks just toys?
While initially marketed as novelty toys, Tech Decks have evolved to be much more. They've grown into a legitimate hobby with a dedicated global community of enthusiasts. Fingerboarding is rich in contests, online forums, tutorials, and exhibitions.
What are the main components of a Tech Deck?
A Tech Deck consists of several vital components similar to a full-sized skateboard:
Deck: The leading platform for fingerboarding, available in various designs and sizes.
Grip Tape: Provides traction for fingerboarding.
Trucks: Metal components for turning and maneuvering.
Wheels: Enable smooth movement on surfaces.
Bearings: Positioned inside the reels for a smooth spinning motion.
Where can I buy Tech Decks and their accessories?
Tech Decks and related accessories are available at online retailers like Amazon, eBay, and SkateHut. Prices typically start at around $5 for individual decks, with specialized accessories and playsets available at varied prices.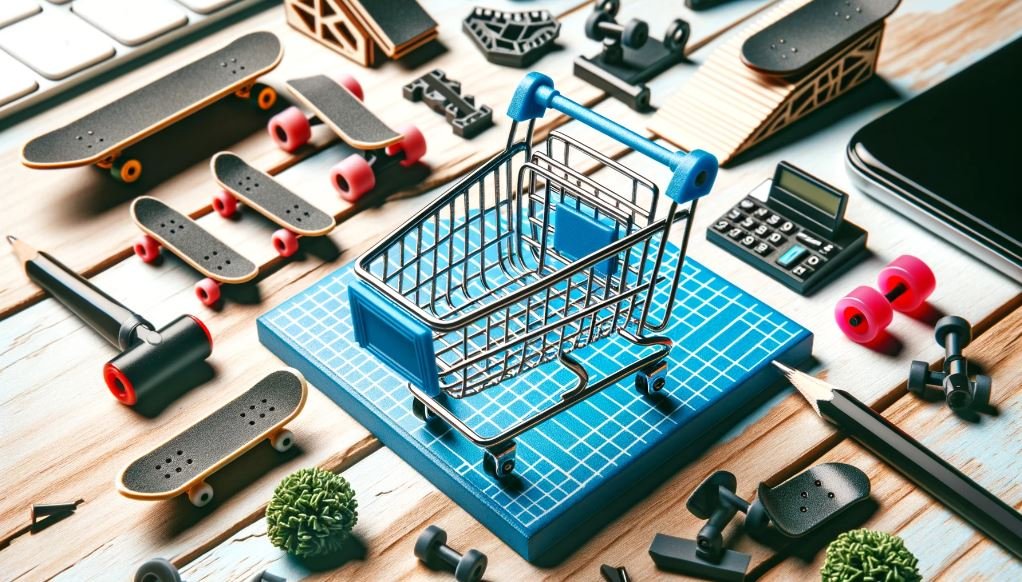 Are there other notable brands besides Tech Deck?
Yes, while Tech Deck pioneered the movement, brands like Blackriver Ramps and FlatFace Fingerboards have also made significant contributions. They offer a range of products, from decks to ramps and other fingerboarding accessories.
How has the Tech Deck community evolved?
From its inception as a novelty toy, the Tech Deck community has grown exponentially. Today, there's a thriving online presence with forums, social media groups, and video platforms dedicated to fingerboarding. Events, competitions, and exhibitions worldwide further highlight the passion and skills of fingerboarders.
Is fingerboarding suitable for all ages?
Absolutely! While Tech Decks are small and require a certain skill level, they are suitable for enthusiasts of all ages. It's a fun and engaging hobby that allows individuals to explore and master the art of fingerboarding at their own pace.