Last Updated on October 25, 2023 by admin
What is a Bed Frame?
A bed frame, commonly called a bedstead, is more than just a sturdy base for your mattress. This essential bedroom accessory offers the required support for your mattress. It acts as a significant style statement for your room. It typically consists of legs or feet, elevating the bed above the ground, often accompanied by a headboard and footboard. The primary objective? To create a foundation that provides both functionality and aesthetics.
Types: One Size Doesn't Fit All
Venturing into the world of bed frames, you'll find a myriad of sizes and types tailored to different needs:
Standard Bed Frames: These versatile frames typically call for a box spring to ensure optimal comfort.
Platform Bed Frames: With either a solid or slatted surface, they bid goodbye to the need for a box spring.
Wire-Grid Frames: Predominantly metallic in construction, they also eliminate the requirement of a box spring.
Whether you have a twin or a California king-sized mattress, there's a bed frame just for you.
Materials Make the Magic
The essence of a bed frame lies in its material, with each offering its distinct advantages:
Wood: Renowned for its longevity and refined look.
Metal: A minimalist's delight, these are straightforward and hard-wearing.
Upholstered Plywood: For those seeking varied aesthetics, the fabric choices are abundant, though durability might be a tad compromised.
Wicker: Light and distinctive, it resonates with a boho or country charm.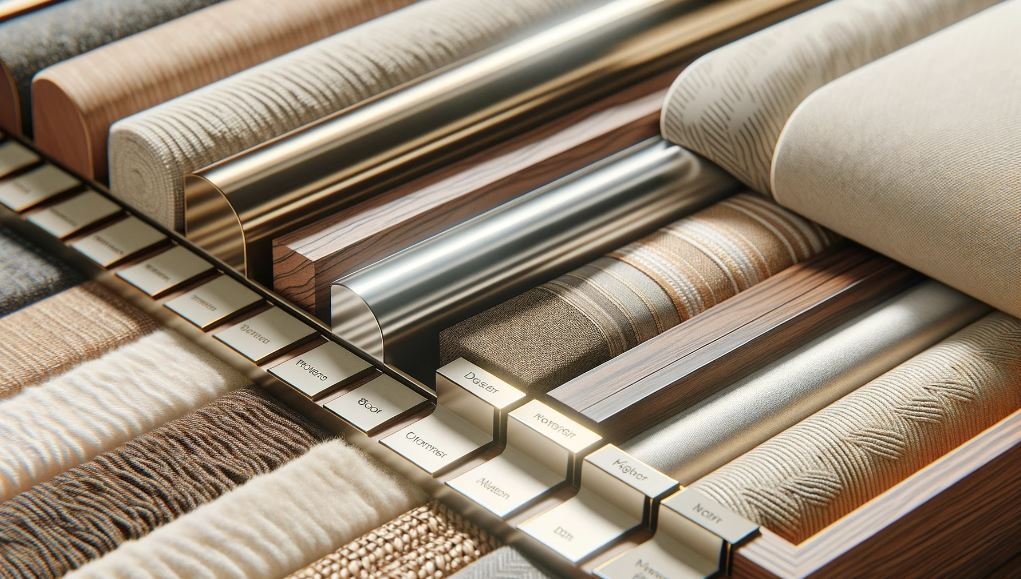 Design Decoded
The design of a bed frame is pivotal in setting the tone of your bedroom. From plush leather to simple fabric, the choices are plenty. In the modern era, many bed frames also come with added functionalities. Need more storage? There are frames with built-in drawers. Tight on space? Look out for the sleek, space-efficient ones. Your bed frame can be both stylish and practical.
Why Bed Frames Matter
Beyond aesthetics, the utility of a bed frame is manifold:
Sleep Sanctuary: A solid bed frame ensures even weight distribution, offering a comfortable sleep.
Mental Boost: A well-chosen bed frame complements the room decor, enhancing the overall ambiance, which indirectly uplifts one's mood.
Floor Saviour: Elevating the mattress bed frames prevents direct contact with the floor, averting potential damage.
Space Maximization: With designs offering integrated storage, decluttering becomes a breeze.
In Conclusion
When seeking the perfect bed frame, consider its purpose, the room's size, and the design aesthetic you're aiming for. With many options available, you're sure to find one that's functional and aligned with your decor preferences. Remember, your bed frame is not just a supporting act; it's the star of your bedroom. Choose wisely and sleep soundly!
Also, Read From House Hunting to Moving In: Your Guide to Finding a New Home.
FAQs
What exactly is a bed frame?
A bed frame, a bedstead, is a foundational structure built to support a mattress. It often features legs or feet, lifting the mattress off the floor. It can come with additional components like a headboard and footboard.
Do I need a specific type of bed frame for my mattress size?
Yes. Bed frames are designed to match standard mattress sizes like twin, full, queen, king, and California king. Ensure the frame size aligns with your mattress size for a snug fit.
Is a box spring mandatory for all bed frames?
Only sometimes. While standard bed frames usually require a box spring, platform and wire-grid structures are designed to be used without one.
How do I choose the suitable material for my bed frame?
Selecting the material depends on your aesthetic preference and functionality needs. Wood is durable and classic, metal offers a minimalist look, upholstered plywood brings varied aesthetics, and wicker adds a bohemian touch.
Can bed frames come with additional features?
Absolutely! Modern bed frames often incorporate under-bed storage, built-in headboards, or space-saving designs.
Do bed frames benefit sleep quality?
Yes, a reasonable bed frame ensures even weight distribution of the mattress, providing better support and comfort during sleep.
How do bed frames protect the floor?
By elevating the mattress and its weight off the ground, bed frames prevent potential damage or scratching of the floor surface beneath.
Is there a bed frame design that can help me save space?
Indeed, many contemporary bed frames are designed with integrated drawers or shelves, helping maximize space and declutter your room.
How do bed frames contribute to mental well-being?
A well-chosen bed frame that complements room decor can enhance the overall ambiance, uplifting one's mood and offering a sense of tranquility.
What's the bottom line of choosing a bed frame?
Your bed frame should cater to your functional needs while resonating with your style preferences. Ensure it's of the right size, material, and design to make it the focal point of your bedroom.