Forearm tattoos are one of the most popular choices for women regarding attention-grabbing ink. The skin between your elbow and wrist provides a unique opportunity to create beautiful artwork on the lower arm, giving you the skin between your elbow and wrist to design a meaningful tattoo. There are many classy female half-sleeve tattoo ideas to explore for a fantastic look, whether you want to use the entire arm and get a sleeve or just a tiny art piece on the inner arm.
Some women prefer girly designs like roses and flowers with butterflies, while others prefer an excellent method like a lion and mandala for a bold half-sleeve. With so many adorable designs, finding the perfect forearm tattoo to match your personality and life can be difficult.
We've compiled a list of the best forearm tattoos for women to consider now to give you some ideas. Explore these lower arm tattoo ideas for excellent examples and inspiration ranging from pretty and feminine to unique and meaningful.
Flower Half-Sleeve Tattoo
Half-sleeve tattoos make a statement because they cover a large amount of skin, and the theme is often intricately detailed. Flowers are some of the most popular tattoo designs because there are many different types, each with symbolism. Blooms can symbolize love in general, but depending on your choice, you can tailor your body art specifically to yourself with personal meaning.A red rose, for example, symbolizes passion, while a black rose symbolizes death or grief. People associate a cherry blossom with life and beauty, while they associate a daffodil with honesty and truth.
Polynesian Half Sleeve Tattoo
In Polynesian society, people used tattoos to demonstrate status and hierarchy. They are intricate, with patterns and symbols that tell a meaningful story to the wearer. Many people wonder if getting inked in this style is disrespectful if they do not have Polynesian ancestry, and the answer is twofold.
One could interpret it as cultural appropriation, but one could also construe it as a way to honor and admire art and customs. As a result, you must do your research ahead of time so that you don't just have a design that looks cool but is also deeply meaningful and considerate.
Tiger Half-Sleeve Tattoo
The tiger is a powerful predator that lives at the top of the food chain in its natural habitat. As a result, people frequently associate the big cat with freedom and independence. It is also associated with strength and courage and holds significance in many cultures. Such big designs make for good men's tattoo ideas as well.
The mighty beast represents dignity in China, and it is the national animal of India. Because of the symbolism associated with it and its beauty, a tiger tattoo is an excellent choice for getting inked. It is easy to see why a woman would choose such a meaningful and exciting design when deciding on body art. It also works well as a half-sleeve forearm tattoo because the placement allows enough detailing to show off your ink.
Koi Fish Half-Sleeve Tattoo
Because of its significance in Chinese and Japanese cultures, the koi fish is a popular tattoo strength design. It is frequently associated with optimism and character strength. It can be a way to show that they have faced and overcome adversity in the past. The color you choose is also important because it can alter the meaning. A red koi fish, for example, can represent intense love or be interpreted as a symbol of family, whereas blue is associated with fertility and masculinity.
Angel Half Sleeve Tattoo for Women
Body art is so popular because of many interpretations of design and meaning. An angel tattoo is frequently associated with hope and heaven and may remind you that someone is keeping an eye on you. One can also interpret it as a spiritual guide and a symbol of innocence and beauty. People could also tattoo it to remember a loved one who has passed away. You can ink an image of the wing or the being itself.
Clock Half-Sleeve Tattoo
The clock is one of many images that make for exciting and appealing half-sleeve tattoos. The timepiece is associated with the life-death cycle and frequently represents the passage of time. The watch's hands and where they stop are also important, as they may represent a time that is significant to the wearer, such as the death of a loved one or the birth of a child. When choosing a half-sleeve design, remember that your imagination is your only limit. Although it is best to stick to a theme, you can add various unrelated elements to your artwork to give it more meaning.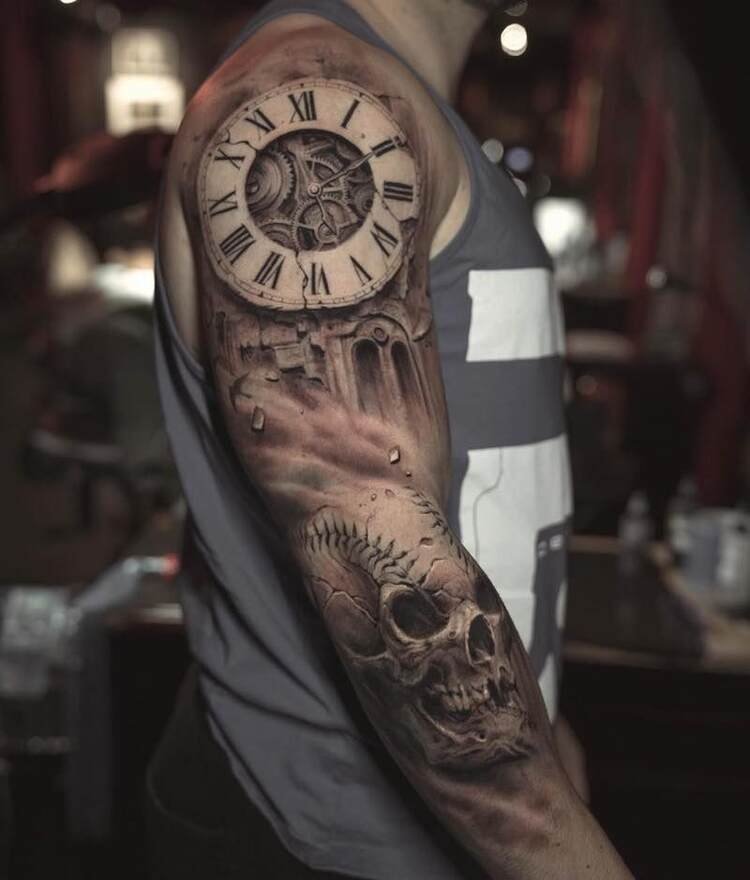 These were our top picks for a half-sleeve tattoo on the forearm, do let us know your favorite pick in the comment section below!
Also, Read Viant Acquires MySpace and Launches iPOLAFAYETTE, A New BroadcastingCable Network.